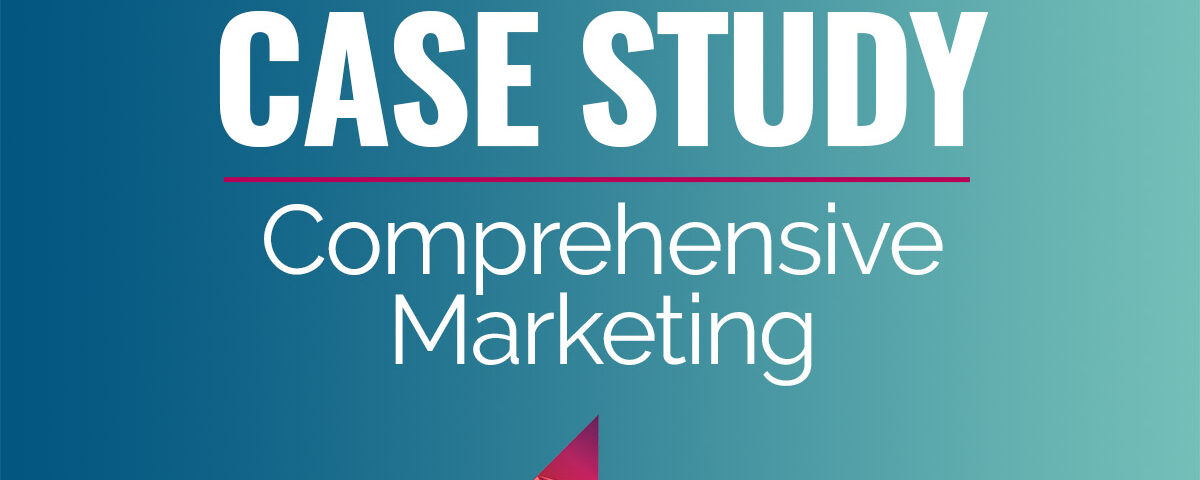 Protec Recycling Doubles Business in 3 Years

On Track to Recycle 1 Million Lbs. of e-Waste in 2018!
Located in Birmingham, Alabama, Protec Recycling specializes in electronic waste recycling. Not only does Protec offer a zero-landfill guarantee, they recycle everything electronic, including computers, laptops, tablets, phones, printers, accessories, cables, and more.
100% of all items received are recycled or sold for reuse. At Protec, each customer's data security is of critical importance, and certified hard drive shredding and data destruction services are a part of every job.
When Protec needed a web developer and digital marketing partner to help them grow their business, they turned to Chroma Marketing Essentials. A Comprehensive Approach
Protec's Founder & CEO, Danny Skinner, knew his young company didn't have the time to ride herd on one company for web development, another for online advertising, yet another for Social Media and still more for YouTube videos, e-Newsletters, and blogs.
Danny chose Chroma Marketing Essentials (CME) both for our proven track record and our one source convenience in covering all the online marketing venues Protec needed.
Why would a young company nearing the end of its second year in business decide it needed to cover so many online bases? Wouldn't a modern, mobile web presence be enough? Why invest in a broad approach touching on e-blasts, blogging, Social Media, Pay-per-Click advertising, YouTube, and more?
The answer is because it works.
The concept is as simple as the military principle of combined arms. Going into combat with tanks alone and no air cover or sending infantry into the fight without artillery to back them would be fatal moves no modern general would consider. In the same way, a website without support services and marketing is out there alone at the mercy of its competition.
At Chroma Marketing Essentials, it became our job to find the right mix of services at a budget Protec Recycling could afford, a 'combined arms' approach of ongoing services that would get notice, build trust, and bring in new customers.
Measuring Marketing Growth
Marketing efforts should be measurable, and modern web diagnostics provide a wide array of measurements to monitor the success of Protec's website. By utilizing tools like Google Analytics, Chroma Studios monitors the behavior of visitors interacting with the Protec's site, allowing us to see far more detail than old-fashioned "hits."
So far in 2018, for example, we know that visitors to the site have increased 134.21% from the previous year, while looking at over 91% more pages.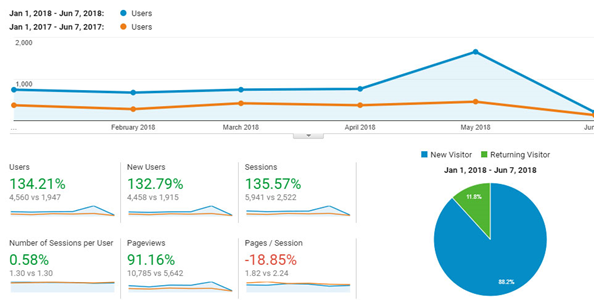 We know visitors stayed on the site just under 1.5 minutes on average and that females accounted for 40.8% of all visitors. The biggest age demographic using the website is between 25-34 years of age; however, those who stay on the site the longest and look at more pages than any other group are 65+.
Perhaps more importantly, geographic information shows that over 60% of the top 25 cities from which web traffic arrives on the site are snugly within Protec's service area.
How does knowing this information help Protec grow its business?
Website owners often take for granted some very basic pieces of information that are important to successful enterprises like Protec Recycling:
Do the people who arrive at your website stay and use it, or do they just bounce away as if uninterested?
Is your site engaging the right audience demographic? If you sell arthritis supplies or luxury touring sedans, and the bulk of your visitors are between 18-24, something is wrong.
If your business serves a local or regional market, and your site is attracting a lot of attention in the UK, you will have difficulty taking advantage of the overseas attention.
Data from Google Analytics helps Chroma Studios validate that the website our team designed for Protec Recycling continues to reach its audience and improve its interaction with that audience over time.
Delving deep into the numbers, we can even see that "organic search," meaning natural search results without advertising, is the Number 1 source of web traffic for the site and has improved this year over last.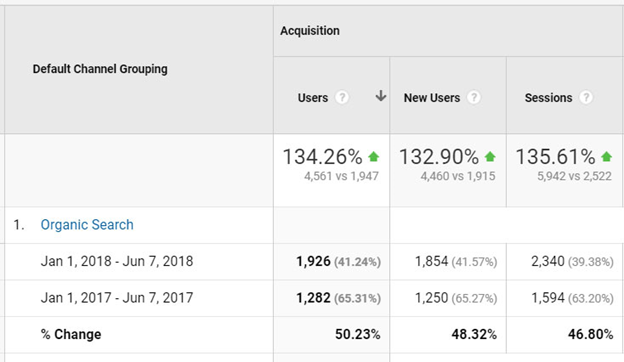 Of even greater impact is the fact that 43% of visitors explore the website on their phones, tablets, or other mobile devices, up from 37% just last year!
For Protec, a responsive and fast loading site, one that works on handhelds using a cellular network, is critical to nearly half their audience! At Chroma Studios, our designers took this into account, assuring not only that the site itself can adjust to display favorably across many devices, but also that the web hosting service for the site was fast enough for mobile service.
A common mistake with websites is to assume that more web traffic is always better, or that a higher position in Google will solve everyone's marketing problems. In fact, the first order of business is to assure that your website works as a welcoming and informative hub of your marketing wheel.
Content Development is King
A common refrain among digital marketers is that "Content is King." Microsoft Founder Bill Gates said it in a famous essay in 1996, and Forbes Magazine confirmed it just last year in their article Why Content Will Always Be King.
By content we mean newsletters, blogs, e-blasts, info-graphics, videos, and more.
To help Protec Recycling gain market attention, CME began a program of content development with a regular pulse of monthly e-blasts (short emails to existing customers about electronic recycling) and blog posts (longer pieces providing information on things like HIPAA data security in e-waste recycling). Once a quarter, a longer e-Newsletter is broadcast to Protec's customer base, an informational piece designed to build awareness of new issues in electronic recycling, link readers to Protec's latest blog posts, and introduce new services and service updates.
On the Protec website, only 32% of visitors start on the home page. 68% arrive at the website on other informational pages, and 3.6% of web visitors read blog posts. In the first half of 2018, those visits added up to over 6,100 page-views of content beyond the home page.
It [content marketing] centers around the customers rather than itself. It attracts people rather than interrupts them, and it's more about them than it is about you.
Steve Olenski
Forbes Magazine
E-blasts and Newsletters
e-Blasts and e-Newsletters are another way to deliver engaging content to your audience. Using MailChimp, Protec Recycling's monthly e-Blasts and quarterly e-Newsletters enjoy open rates between 18.4% and 32.6%.
As you can see in the accompanying chart, Open Rates for Protec's marketing emails are consistently higher than the industry average. This is a strong signal that the subject matter and content of the emails is informative and engaging, helping to strengthen the relationship between Protec and its customer base.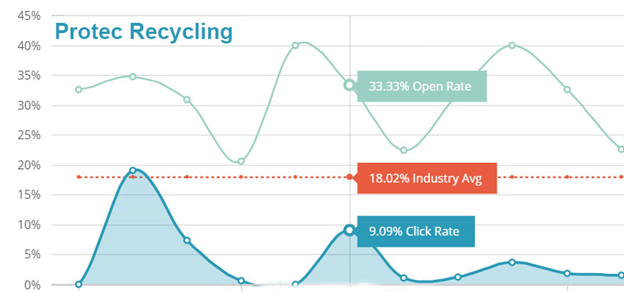 Videos and YouTube
Many people are still unaware that YouTube is the world's second largest search engine (after Google), and that 180 million people in the U.S. use the video sharing service. Statistics show that YouTube reaches more 18-49 year-olds than cable!
Many YouTube users are looking for information over entertainment. How to, where to, and why top the list of queries. Companies can take advantage of this by crafting short informational videos and videos that touch on the concerns of potential clients and customers.
For Protec Recycling, CME used the video creation tool Promo by Slidely, an inexpensive online service where video ads can be created in minutes. After creating a YouTube Channel for Protec, and releasing a new video every couple of months, we watched viewership climb from under 600 for Protec's first video to nearly 4,000 for the most recent ones.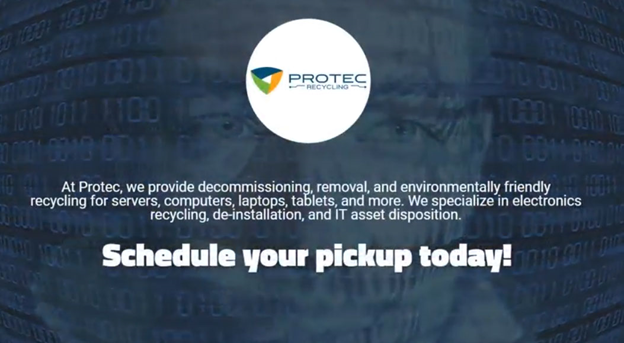 YouTube videos offer several advantages.
YouTube videos can be displayed on your website, enhancing engagement with visitors to the site.
YouTube videos can be found in searches on both YouTube and Google.
YouTube videos can be used in Advertising campaigns, in Social Media, and on YouTube itself.
Professional videography also has its place, and Protec has also invested in developing commercial grade video for its website, including a home page video that demonstrates the professionalism and care with which the company approaches its mission.
Online Advertising
The number of websites online will soon climb to over 1.5 billion. More than 140,000 new sites are launched every day. The days when the average small business could achieve first page ranking on Google are long gone.
For your business to be visible online, Pay-per-Click (PPC) advertising, including Google's AdWords system, has a part to play.
Statistics published by Hochman Consultants in 2017 show that the average Cost per Click (CPC) across all industries has risen from $0.38 in 2005 to $2.14 in 2016, a 176% increase! (Cost per Click is the fee charged by systems like Google AdWords, every time a visitor reaches your website by clicking an online advertisement.)
A Google Partner Company, Chroma Studios not only has Google Certified AdWords specialists on staff, but also a team with the imagination and a drive to provide effective advertising for our customers and save them money.
In establishing PPC campaigns for Protec Recycling, we soon realized the competitive nature of the e-Waste industry would drive the Cost-per-Click for basic Google ads to over $2.62/click on average.
Nevertheless, the potential to reach a qualified audience was too important to pass up.
Six AdGroups were created, ranging from Hard Drive Shredding to Electronic Waste Recycling. In the first half of 2018, these ads have appeared in Google searches over 3,300 times, achieving an impressive Click-through-Rate (CTR) of 9.2%. 4 of our 6 ads achieved Google first page positions between 1 and 2.4.
In addition to these premium AdWords results, CME used both Video ads and Google's "Remarketing" to promote the website across the Internet. Remarketing is when a visitor to your website leaves, but then continues to be reminded of your services while visiting other sites that display advertising (like news, magazine, and informational sites).
This helps your offers and services stay "top of mind" to prospective customers who simply were not ready to buy at the time they visited your site.
The big advantage of Remarketing is that it is far less expensive, and we were able to run Protec's remarketing ads for as little as $0.05 to $0.18 per view. The disadvantage is that Remarketing requires a certain minimum threshold of web traffic before it can be engaged (a minimum of 1,000 unique users whose browsers accept cookies). With Protec, our combined marketing approaches easily helped their website achieve the threshold needed for Remarketing.
Finally, CME integrated CallRail call tracking, recording, and analysis into our Google Ad Campaigns. With CallRail, Protec has a direct count of calls resulting from our Ad Campaigns, as well as the ability to monitor those calls for quality assurance. (For many clients, CME has seen call reviews help identify weaknesses in lead handling and result in customer service improvements that convert more leads to customers.)
The days when the average small business could achieve first page ranking on Google are long gone.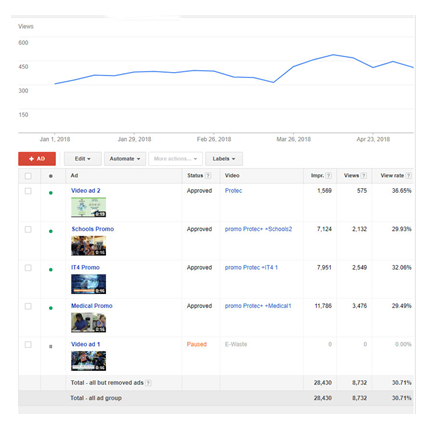 Social Media
At Chroma Marketing Essentials, we offer several Social Media packages and social advertising programs. For Protec Recycling, our entry level Social Lite offering, along with some basic social media advertising, fit the bill.
We selected Facebook and Instagram as appropriate social media venues for the electronic recycler, with a publishing frequency of 2-3 posts per week.
Even though Protec's Social Media efforts account for the smallest number of individuals (only 165 Facebook followers), the impact of social often outweighs its numbers. When you think about it, Facebook followers are an engaged audience who have chosen to receive an ongoing feed of posts from your company.
Further, a presence on Social Media allows you to target advertising to a precisely defined demographic, including not only factors like age, gender, and location, but people with specific interests and enthusiasms.
Social Media and social advertising are important traffic drivers to your website and critical validators of your goods and services. A healthy Facebook page, for example, demonstrates to visitors that your company is interacting with its audience, offering information and advice, as well as troubleshooting customer service concerns on a timely basis.
Summary
Protec Recycling's Founder and CEO, Danny Skinner, had this to say:
"We are now in our 3rd year. We've done well over 2 million pounds since we started, and we are on track to do 1 million pounds this year alone in electronics recycling. We now have triple the man power, twice as much warehouse space, much larger trucks, we're able to handle much bigger volumes than we were initially, and our mission is to create as easy and hassle free a way to dispose of your electronic recycling as possible.
'We bring our truck to your business, we prepare it, we load it, we bring it back to our facilities in Birmingham where it is recycled fully in an environmentally friendly way.
"Businesses with sensitive information on their computers cannot afford to have that information end up in the wrong hands. Our primary focus is to make sure that their information is safe. All hard drives are removed and destroyed in a verifiable way. Our customers can watch their hard drives being destroyed before we leave their facilities, after which we provide a certificate of destruction.
"At Protec, we have a zero-landfill policy. It's our core mission that we don't add to the problem that exists for future generations. Everyone that recycles with us contributes to that mission."
About Chroma
"Before finding Chroma Marketing Essentials, we were using multiple companies to handle our marketing, and we had to provide all of the content. CME was exactly what we were looking for – a full-service, one-stop-shop solution for all of our marketing needs. After building a beautiful and functional website (with very little input from us), they ramped up a multi-pronged strategy that has helped our business grow tremendously month after month. They have also done all of our print material design, truck wrap, and business cards. We have had a great experience from day one and I wouldn't consider working with anyone else."
For More Information
For more information on services from Chroma Studios, visit our services pages. Call us at 724-523-3001 or contact us by email.