If you're old enough, you might remember the early days of the Internet when it was still an underground world – long before the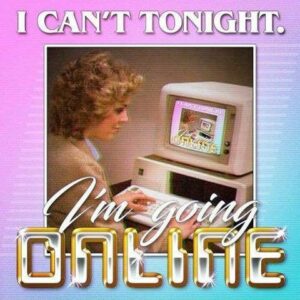 corporate world turned the Internet into a giant billboard.  Most people didn't even really know what it meant go online.  Receiving an e-mail was just as exciting as getting a package in the mail.  And who can forget the soothing sound of a dialup modem's screech?  Getting online felt like being in an exclusive club, getting access to a hidden dimension.
But today, the Internet is basically the primary world.  "Real life" has taken a backseat to the digital world.  Small children, grandparents, and6 even some pets are online!  And social media is the main meeting place on the Internet.  Facebook, Twitter, Snapchat, Instagram – these networks are part of everyday life.  It's not unusual to use social media as the primary means of interacting with friends, family, co-workers, and businesses.
With everyone online and dedicating hours of their day to social media, it is not surprising that people assume that they know how to use social media for business.  But that's just not the case.  It's an entirely different world with a whole other set of rules.
Social media for business is a science – it's the science of advertising, branding, interaction, reputation management, customer service, consumer information, content sharing, and so much more.  You must know when to post, what to post, how to interact, and how to make your social media accounts consistent with the rest of your brand.
When it comes to managing social media to do business online, there are a few common mistakes that we see:
Trying to build a presence on every single network. Most businesses don't have the resources to post on every social media network and generally, they don't need to.  It's all about identifying your audience and figuring out which social networks they use.
Posting the same thing on each network. Your social media content shouldn't be a series of repeated information.  It gets boring and doesn't encourage your audience to follow your multiple accounts.  If everything you post on Facebook is identical on Twitter, why should they follow both accounts?  Instead, modify your content according to each network.  For example, hashtags on Facebook are not common.  On Instagram, you should use 10-15 different hashtags, while you should only use 1-2 on Twitter.
Getting too promotional. People have a very strong sense of when they a company is trying to sell them something.  And if it becomes especially obnoxious, they'll abandon your brand.  It's all about entertaining and/or informing your audiences.  Don't be a sleazy salesperson.  Nobody wants that.
Not responding to every comment. A lot of businesses make the mistake of only responding to negative comments.  That's a great way to bring more attention to those negative posts.  Big mistake!  Reply to all comments, both positive and negative.  Let your audience know they are being heard!
Inconsistent posting. Make sure that you are posting regularly and at the right frequency.  Long gaps in between posts hinder your brand's image and give an impression of inactivity.  Social media experts use statistics and analytics to determine the proper posting frequency.
You might be on social media every day, but it doesn't mean you're ready to represent your brand on social media.  The social media experts at Chroma work with you to identify your audience and interact with them in an effective way.  Check out our social media packages today!