White Glove Web, Marketing & Cloud Technology

Our designers can bring your vision to life providing everything from logo design to print design to brand strategy.
Award Winning Websites
Results Driven Digital Marketing
Cloud Based Business Software Solutions
White Glove Managed Services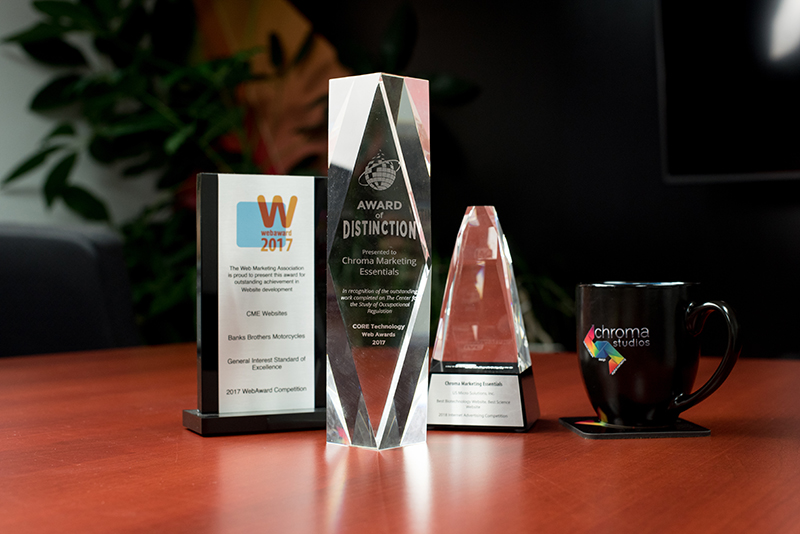 Managed Digital Promotion and Much More
At Chroma Studios, our White Glove Digital™ services aren't for everyone. We're an award-winning Internet marketing and technology agency, and we're looking for a few up and coming businesses — companies in need of a reliable partner to handle their digital development, promotion, and cloud-based workflow needs.
Your business is growing, quickly. It's busting out all over, and you have big plans for the years ahead. The challenge is threefold. You need to ramp up your Branding, expand the reach of your Digital Marketing, and streamline your Business Management.
Instead of taking on the headache of parceling out web, social media, logo & print design, branding, content writing, SEO and SEM, e-commerce, domains, hosting, email, and critical software development, come to Chroma Studios. We handle it all. Even providing award-winning photography and high-end videos for clients local to the Pittsburgh region.
It's about more than services. We become part of your tribe, learn your mission, culture, and goals. We meet your needs with meticulous attention and help you take on the challenge of pushing your business forward.
Marketing and Software Tools from One Provider?
A 20-year-old company with hundreds of websites under our belt, Chroma has grown alongside its customers, responding to their needs over time and building our suite of services in response.
We know firsthand the business management challenges that growing companies face, and in the second decade of the 21st century, we decided to invest in our own software development team, going even further to create a proprietary, foundational, cloud-based business toolkit, an amazing, configurable/customizable solution we call FlexPortal.
FlexPortal provides you and your customers with the latest web-based portal technology while delivering tools for Project Development, Task Assignment & Resolution, Reports, Forms & Analysis, Proposals & Document Management, Customer Relationships, Human Resources, Accounting, and more.
Using click and drag module builders, your team can quickly make FlexPortal become the software they need to streamline operations and take on more business, more profitably.
Our Goal is to be one of your Most Valuable Assets
We handle crisis like the coronavirus, digital marketing around a new product, and offer comprehensive services tailored to the needs of your business while assigning a team of highly-skilled U.S. based personnel who make it their mission to learn your business and promote it as correctly and confidently as you would yourself.
Our experience encompasses a wide range of businesses and industries from manufacturing services to laboratories, childcare to healthcare, sports teams to municipalities, managed IT to construction, financial services to nuclear engineering, and more than we can list.
What don't we do? Well, media buying. And while we don't do media buys, we can hook you up with trusted partners who can help.
What's the Deal?
White Glove Digital™ services start at $2,000/month, with workflow, delivery, and cost configured to meet the needs of your growing business. Our efforts are scalable and can be tuned to meet your differing needs in different periods.
We also offer à la carte services at all levels for a wide range of smaller businesses.
Want to learn more about partnering with Chroma Studios? Give us a call at 724-523-3001. You'll want to talk with our Creative Director and Workflow Consultant, Chrissy Ferree. When it comes to White Glove Digital™ services, we don't start you with Sales, we want you in direct contact with an exceptionally qualified team leader who can evaluate your fit with Chroma's services.
Let's conquer the business world together. We're looking forward to your call.