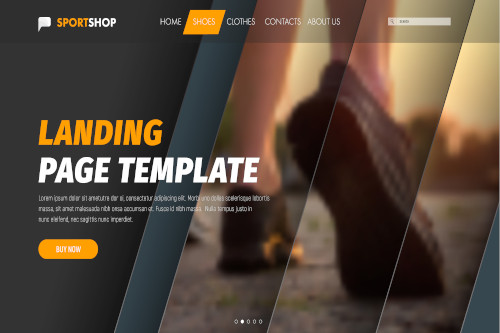 Google (and other search engines), just like the Internet itself, is an ever-expanding universe.  No matter how awesome your product or service is, it needs to be easily found – by the right people!
One of the best ways to be found is using a landing page.  And unfortunately, many businesses aren't using them!  Now is your chance to take advantage of the power of landing pages!
What is a Landing Page?
A landing page is a standalone web page designed to promote or market a specific product/service, make visitors aware of a sale or promotion, or to get in contact with a potential lead.  Basically, its purpose is to convert visitors into leads.  They also allow you to track which promotions and marketing tactics are actually working and gain amazing insights into how you're being found and who is checking you out!
A landing page is generally reached through paid promotion, such as Google Ads.  You click on an ad, and BAM – you're on a landing page!
A landing page's main component is a call to action (CTA).  The CTA is used to persuade visitors to do something specific, such as fill out a contact form, join a mailing list, get a free demo or trial, buy a product or service, redeem a coupon, or sign up for a free e-book.
Once the visitor has responded to the CTA, a relationship is established.  Now you can turn those leads into sales.  The bottom line is about growth.
What Makes a Landing Page Successful?
It's great to increase your number of leads, but how do you get the right leads?  Below are some ways make sure your landing page does what it's supposed to do – convert leads!
Target a specific audience.  Partnering with an effective digital marketing company like Chroma, you can identify the "persona" of your audience and use various elements to target them directly.
Establish trust.  First of all, great design establishes trust.  We've all been to sketchy looking websites.  They don't inspire confidence.  And it's always great to include an actual physical address and phone number for your company, in addition to a contact form.  It shows that you are legit.
Include social media links and share buttons.  Social media is a major part of our social and professional lives.  Love it or hate it, it's here to stay.  And allowing your audience to easily share your landing pages is a no-brainer!
Include a very clear and simple CTA. Visitors need to know exactly what you're offering and why they need it. The message needs to be concise and show value.
Simplicity!  Overwhelming your visitors with too much information is a great way to lose them!  Short copy and simple design are key.
Chroma is Your Expert Landing Page Pilot
Chroma's team of digital marketing experts has experience creating landing pages that have generated impressive, measurable results!  Design, graphics, content, social media, SEO, ads, and more – we combine all of our services to construct landing pages that will grow your business!
We're eager to speak with you so that we can break it all down and take the headaches out of launching your landing pages!  Call us today at 724-523-3001, or visit our Contact Us page. We look forward to serving you with all your web and online marketing needs.