leading design, technology, and strategies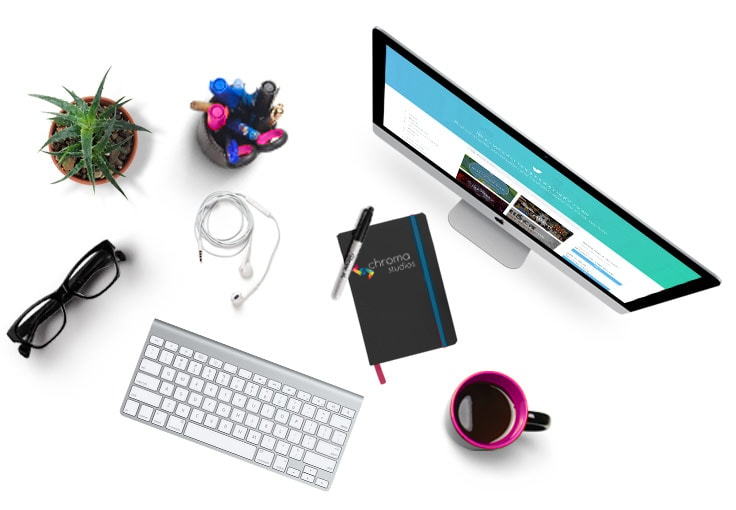 We Are a Community Partner
---
You can go to any company to have a website or digital ad created but, unfortunately, that is often where the service ends. Websites, ads, and content are not an end product for us. We know that in order to see success in the digital realm you'll need an informed partner to help you keep pace.  
Chroma has built its reputation on outstanding customer service. In an industry where many web developers just won't reply or make changes to your site, we've always found it important to be responsive and solve issues for our clients.  
We go beyond our list of paid services. Chroma Studios is committed to being your digital technology partner.  We've lived and worked here for years - and we understand this community.


Davey Awards Silver Winner
Discover Westmoreland
website
Hermes Awards Gold Winner
Marcom Awards Gold Winner
Anthony Marchionno D.M.D.
Logo Design

We have used the crew from Chroma Marketing for several years now to originally set up and maintain our Indiana County Parks & Trails website. They always do a great job following up with our website revisions. We've been very pleased with the service they provide and we recommend them to others looking for a very reasonable and efficient company to work with.

Chroma Studios has been extremely helpful to my business's marketing and website needs. I was excited to see their new branding and logo recently launched. I feel strongly that it fits exactly what they have been able to provide their clients, like myself. Their colorful origami logo reminds me that folding a piece of paper into a beautifully crafted shape takes skill and experience. When it comes to the web, Chroma's staff has the wisdom to fold your company's marketing needs into the perfectly designed approach while adding modern energy. Chroma's staff has the long-standing experience needed to keep up with today's fast-moving world wide web.

"Before finding Chroma Marketing Essentials, we were using multiple companies to handle our marketing, and we had to provide all of the content. CME was exactly what we were looking for - a full-service, one-stop-shop solution for all of our marketing needs. After building a beautiful and functional website (with very little input from us), they ramped up a multi-pronged strategy that has helped our business grow tremendously month after month. They have also done all of our print material design, truck wrap, and business cards. We have had a great experience from day one and I wouldn't consider working with anyone else."

When our business updated to a new web site, we were unfamiliar with the new web design program. Chroma helped with our transition tremendously and took away a lot of the stress that we were feeling. They knows how to explain things in such a way that even the most computer illiterate person can understand! Jane and Scot have always been very quick to respond to any problem we've handed them and they have always given us the time we need to understand the solution. They, along with their staff, are wonderful people who we highly recommend.

After a frustrating experience with another company, I called Jane to see if she could help me. She graciously calmed my nerves. From the beginning, she and Scot were by far the easiest people to work with. They made working on my website so much fun. Because Jane is so creative and artistic with her design, I found myself looking forward to an email from her with updates. The whole process, from beginning to end, was wonderful. My customers love the new flare Jane put on our website. I personally cannot thank CME enough for being the professionals that they are. While they put so much thought, creativity and energy into each website, they personally show each customer how much they care. Chroma Marketing…truly the best you will ever find! Take it from one elated customer.

Chroma has been a lifeline to us with website tech support, providing assistance in a pinch with design and programming challenges. We greatly appreciate their cheerful accessibility and ability to convey technical instructions in layman's terms!

I can't tell you how much our site has helped us grow over the past year. You guys did an unbelievable job. Not only in the site layout, but the positioning on the search engines. I can honestly say we captured 5 of our top 10 customers from travel to our site.

Chroma is always quick to respond. They are immensely knowledgeable of computers and the various programs. I found them to be trustworthy and reliable. Their creative, innovative and artistic suggestions helped my business reach people the whole way across the United States! They are excellent collaborators and because of that, they created my website that continuously gets positive feedback and many compliments. I offer my sincerest gratitude to Chroma Marketing for helping my business grow considerably.

In 2013 Richland Township hired CME to redesign its antiquated website. The owners of the company, Scot and Jane Noel, took a personal interest in the project and did an excellent job. They and their staff possess the technical knowledge and customer service skills which made a daunting task fun and invigorating. The new website is more relevant, contains better graphics and is easy for residents to use. Consequently, visitation to the site has increased, and it has become an important means for Richland Township to communicate with its citizens. CME is always available to help with notices, updates and any web maintenance issues which arise.

It's not hard to find small firms that develop decent websites at a reasonable cost, but there's usually something lacking in the design or function of those sites. Large firms have the capacity to develop excellent websites with strong design and architecture but charge exorbitant prices to do so. CME is at the center of that spectrum – a small firm that develops superior sites, featuring effective design and solid architecture, at small-firm rates.