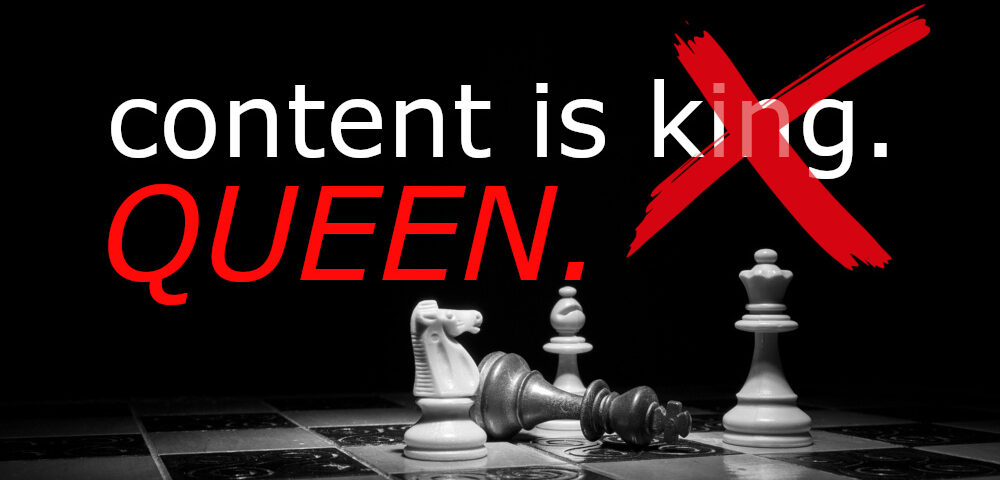 It is true that content reigns supreme in the world of digital marketing. The phrase "Content is King" is so common that it has lost impact. Any effective content writer avoids such clichés with passion.
We're here to tell you the truth: Content is Queen. For anyone who plays chess, you know that while the King is hiding in the corner of the board, the Queen is out there kicking butt and taking names. That's content.
Let's see just how powerful the Queen can be.
Why Is Content So Powerful?
A digital marketing plan without current and expertly executed content is like a chess board with no pieces.
Content comes in the form of blogs, essays, taglines, ads, case studies, newsletters, infographics, slideshows, videos, podcasts, and even printed materials. It tells your story and builds a powerful emotional connection between your brand and your audience.
Did you know that content marketing, in terms of conversion rates, is about 6 times more successful than other digital marketing methods? 80% of consumers enjoy learning about a company through its content. Content allows your brand to build trust and credibility.
Content marketing is 62% less costly than traditional digital marketing methods and generates approximately 3 times as many leads.  Content is Queen and the data proves it!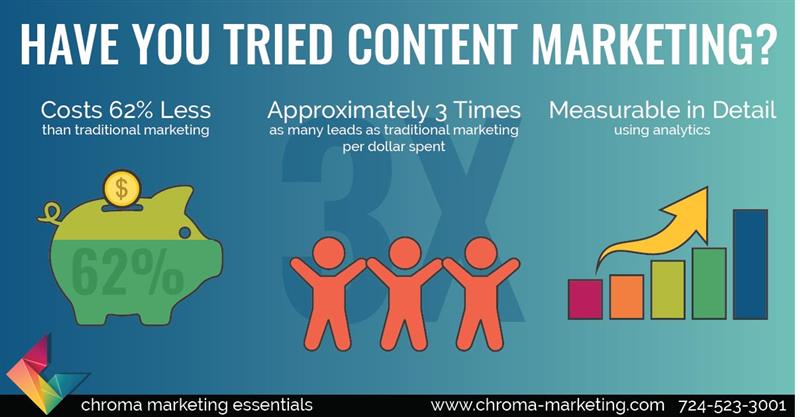 Every bit of published content can serve as a landing page. For example, a blog on a specific product will show up in a Google search if someone is looking for that product, making that blog an entrance to your website/brand.
Content builds your social media presence with useful and entertaining media that serves to boost your brand and engage with your audience. Every piece of content has the potential to be shared via social media.
It's About Putting on the Right Pair of Shoes
Successful content is all about putting on the right pair of shoes. If you haven't tried on your customer's flip-flops, penny loafers, or work boots, how do you know what to say and when to say it?
At Chroma Marketing Essentials, we listen, research, and seek to understand what keeps end users up at night searching for an answer to their problem, then we develop content that takes them through a simple 5 step process:
1: Recognize the Customer's Story.
2. Express Empathy for their Painful Dilemma.
3. Offer a Solution, a Way Out.
4. Validate that Your Business can Do it.
5. Call the Customer to Action.
We Love to Bring Ideas to Life With Exceptional Content!
Chroma Marketing Essentials first analyzes your unique business processes and identifies your digital marketing needs. We develop a content marketing strategy that is consistent with your brand and targets the right audience. We also analyze your current content and identify areas where we can make it better.
We are dedicated to regularly creating new content to keep you highly searchable and relevant. Sites with consistently updated blog content have approximately 434% more pages indexed by search engines than sites that publish no content.
We use analytics to track the success of content and steer your content marketing strategy in the right direction. We use SEO tools to make your content appeal to search engines like Google.
Let's Talk!
Interested in learning more about Chroma Marketing Essentials and how we provide comprehensive marketing solutions? Call us today at 724-523-3001, or visit our Contact Us page. We look forward to serving you with all your web and online marketing needs.