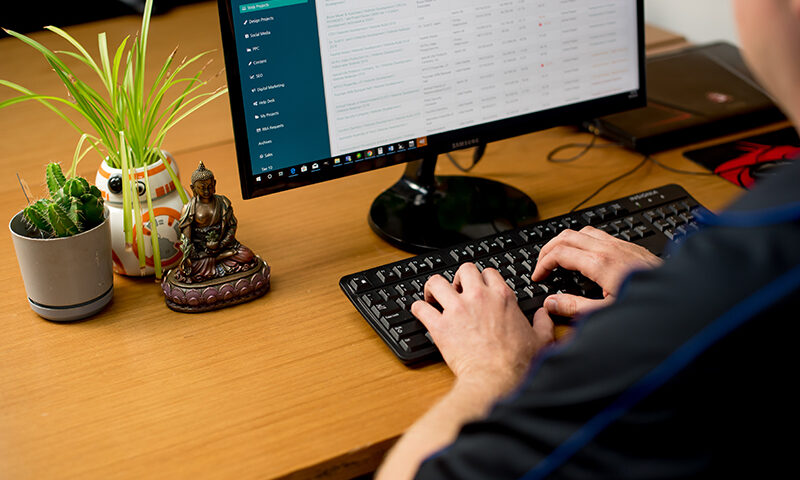 Articles that Stand the Test of Time
Digital marketers have devised numerous strategies to optimize websites, attract traffic, and maintain engagement. While many trends come and go, some practices withstand the test of time and remain indispensable in the SEO playbook. One such enduring practice is the creation of evergreen content. 
Let's delve into what evergreen content is and why it's a smart, long-term investment in your SEO strategy. 
What is Evergreen Content? Evergreen content refers to articles, blog posts, or any form of content that remains relevant, fresh, and valuable over an extended period. Unlike news articles or seasonal posts that have a short lifespan, evergreen content retains its significance year after year. 
Think of it as the sturdy oak tree in the vast forest of online content: while other trees may wither or change with seasons, the oak remains robust and steadfast.  
Examples of evergreen content include how-to guides, tutorials, product reviews, and foundational educational pieces. 
The Everlasting Benefits of Evergreen Content
Creating evergreen content offers numerous advantages. These include: 
Sustained Traffic:

Since the content remains relevant, it can continually attract readers without the need for constant updates.

 
Long-Term SEO Value:

As more people find and link to your evergreen content, its SEO value can grow over time, resulting in higher rankings in search engine results.

 
Increased Engagement:

Timeless content can foster audience engagement, turning one-time visitors into repeat readers.

 
Cost Efficiency:

Instead of constantly producing new content to keep up with trends, evergreen articles provide lasting value from a one-time effort.

 
Casting Your Net with Evergreen Content: A Fishing Analogy
When you venture into the world of creating evergreen content, think of yourself as a seasoned fisherman poised at the edge of a vast lake. Each evergreen article you create can be likened to casting a fishing line into these digital waters, with the topic and the quality of content acting as the bait. Just as different fish are drawn to various types of bait, different audiences are attracted to distinct pieces of content. 
Evergreen content is akin to that trusty lure you have in your tackle box, the one you know will always produce results no matter the season. It's not some flash-in-the-pan, trendy bait that might bring a flurry of activity today but is ignored tomorrow. Instead, it's a carefully chosen, time-tested lure that consistently draws fish, time after time. 
The beauty of the digital landscape, unlike our fishing lake, is that it allows you to have multiple lines in the water simultaneously. The more evergreen content pieces you craft and cast out, the broader and more diverse your reach becomes. Each line stands vigil through the changing tides of online trends, ready to catch the attention of a reader. Over time, just as a patient fisherman knows, the longer you let those lines sit, the higher the likelihood of making that choice catch. 
However, it's essential to temper expectations. Just as even the most skilled fisherman knows he won't catch every fish in the lake, content creators must understand they won't captivate every online user. There's an entire ocean of information out there, teeming with countless articles and blog posts vying for attention. The goal isn't to reel in every single fish, but rather to consistently reach your limit with quality catches that you can be proud of. 
Moreover, just as a fisherman might occasionally check and adjust his bait, ensuring it's still enticing, the content creator should periodically revisit and refresh their evergreen content, making sure it remains relevant and alluring. 
In the end, both fishing and content creation require patience, persistence, and a keen understanding of the environment. By treating evergreen content as a trusted lure and strategically casting your lines, you'll ensure a rewarding experience and a satisfying catch in the vast lake of the digital world. 
Identifying Topics with Everlasting Appeal
To leverage the full potential of evergreen content, you must choose topics that have lasting appeal. Here are some tips to guide your brainstorming: 
Answer Common Questions: Topics

that address frequently asked questions in your industry or niche can remain valuable for years.

 

Avoid Temporal References:

Steer clear of current events, statistics that can quickly become outdated, or trends that might be short-lived.

 

Choose Fundamental Concepts:

If you're in a technical field, explain foundational concepts. These basics rarely change and are often sought after by beginners.

 

Research Competitors

: See what evergreen topics they've covered, then consider how you might approach it differently or more comprehensively.

 
A Central Hub in the Wheel of Your Digital Marketing
At first glance, evergreen content may seem like a strategy exclusively tailored for SEO, given its lasting relevance and ability to drive consistent traffic. However, a deeper dive reveals its value extends far beyond just search engine optimization.  
To truly grasp the multifaceted power of evergreen content, envision it as the hub of a grand wheel, with each spoke representing a unique marketing avenue. 
In this wheel analogy, the hub —our evergreen content— is the core, the focal point from which all marketing efforts radiate. It provides stability, balance, and direction to the entire wheel, ensuring it rolls smoothly and efficiently. Similarly, evergreen content stands as a solid foundation for diverse marketing campaigns, offering a consistent point of reference and engagement for audiences across platforms. 
Each spoke leading to this hub symbolizes the myriad ways you can harness and promote your evergreen content. Consider the vast realm of social media. Platforms like Facebook, X (Twitter), Instagram, and LinkedIn offer incredible potential to broadcast your content to varied demographics. Every time you publish an evergreen piece, it serves as an opportunity to craft engaging posts across these platforms, guiding users back to your central hub.  
It's not just about announcing "new content"; it's about sharing timeless value, insights, and knowledge that resonate with audiences both now and in the future. 
E-newsletters, another significant spoke on the wheel, offer another dimension. They cater to an audience that has already shown interest in what you offer, be it products, services, or simply information. Including snippets and links to your evergreen articles in newsletters not only enhances the value you deliver but also strengthens the bond with your existing clientele. It's a reminder that you're not just in the business of selling but also in consistently providing value. 
Further spokes might represent guest blogging opportunities, webinars, podcasts, or even offline marketing channels. The point is that evergreen content isn't merely a passive tool waiting for organic search hits. It's an active, dynamic force, empowering every facet of your marketing wheel. 
While SEO might be the initial attraction of evergreen content, its true value lies in its ability to reinforce and amplify every marketing effort. It's a testament to the idea that while trends may fade, true value —like the hub of a wheel— remains central, supportive, and enduring. 
Keeping Your Evergreen Content Fresh: A Necessary Tending
Evergreen content, by design, is long-lasting and perpetually relevant. However, this doesn't mean it should be left untended. Just like a garden, even the hardiest plants require periodic care to ensure they remain healthy and vibrant. Similarly, evergreen content, to truly stand the test of time, needs regular upkeep. 
Update as Necessary: One might think of evergreen content as a foundation—solid and unchanging. Yet, the surroundings of that foundation —be it the digital landscape, emerging industry insights, or evolving cultural contexts— are always in flux. Minor details, new research findings, or updated best practices can all shift the perspective on a topic.  
Periodic reviews of your evergreen content ensure that any new, pertinent information can be woven in seamlessly, maintaining the article's relevance and authority. Additionally, the algorithms that govern SEO are far from static. What worked a year ago might not be as effective today. Refreshing content to align with current SEO best practices ensures that your evergreen pieces continue to rank prominently and are easily discoverable by new audiences. 
Engage with Your Audience: The longevity of evergreen content offers a unique advantage — the accumulation of reader feedback over time. Comments, questions, and discussions can highlight areas of your content that might benefit from further clarification or deeper exploration. Engaging actively with your audience not only fosters community but also provides valuable insights. By responding to feedback and refining your content based on readers' inputs, you ensure that your evergreen articles remain both informative and resonant. 
Re-promote on Social Channels: Evergreen content is a treasure trove of value, and its potential isn't exhausted once it's been shared a single time. Digital audiences are vast and varied, with new users constantly joining platforms and seeking information. By intermittently spotlighting your evergreen pieces on social media, you give them a chance to reach fresh eyes, attract new readers, and continue their life cycle of providing value. 
In essence, while evergreen content promises lasting appeal, its full potential is realized only through regular nurturing. By keeping it fresh and responsive to both the changing digital landscape and audience feedback, you ensure that your evergreen content continues to flourish and thrive. 
Serving Value First: Letting Your Content Speak Volumes
In the age of digital abundance, where users are inundated with information at every click, a genuine connection with the audience is more crucial than ever. It's tempting to use every platform, including your content, as a billboard advertising the prowess of your company. After all, what better place to tout your achievements than on your own website? However, this approach may inadvertently alienate the very people you're trying to reach. 
When visitors land on your article, they're primarily seeking value. They have questions, challenges, or interests that they hope your content can address. If they're met with overt self-promotion, they're likely to perceive the content as less of a helpful resource and more of a sales pitch.  
In such cases, the immediate reaction is often to click away, in search of genuine insights elsewhere. By ensuring that your content primarily addresses the needs and interests of the reader, you're fostering trust. You're demonstrating that you prioritize their learning and benefit over your own visibility. 
Here's a perspective to consider: when your content speaks directly to the reader's needs, offering genuine value without a heavy promotional undertone, it creates an implicit advertisement for your brand's credibility and expertise. If readers find solutions, gain knowledge, or simply enjoy your evergreen content, they automatically associate that positive experience with your brand.  
The mere act of providing valuable content makes a compelling statement about your company's expertise, empathy, and commitment to serving its audience. 
To quote the age-old adage, "Actions speak louder than words." In the content landscape, the quality and relevance of your articles speak much louder about your company's caliber than any overt bragging about awards or market dominance ever could. 
If you've found value in this piece and are curious to learn how we integrate these principles into our work, we invite you to reach out. We're always here to discuss, share, and collaborate. No grand claims, just a genuine commitment to delivering value. (See how that's done?) 
In Conclusion
Evergreen content is more than just a buzzword; it's a strategy that offers sustained value in an ever-evolving digital world. By investing time and effort into creating quality, timeless content, you not only cement your authority in your niche but also ensure a consistent flow of traffic and engagement for years to come.  
With its enduring relevance, evergreen content stands as a testament to the value of crafting articles that transcend fleeting trends. It's akin to planting a tree that, once rooted, continues to bear fruit year after year. While its core principle is longevity, it's vital to remember that even evergreen content requires occasional nurturing to remain fresh and relevant. By continually aligning it with current contexts and evolving audience needs, one ensures its lasting appeal. 
Ultimately, the strength of evergreen articles lies in their ability to serve the reader's interests over blatant self-promotion. In a digital age teeming with content, genuine connection and value-driven insights distinguish standout pieces from the mundane. By putting the reader's needs at the forefront and subtly showcasing expertise, businesses can foster trust, laying the foundation for deeper engagement. 
In conclusion, the journey with evergreen content isn't about a one-time effort but an ongoing commitment. It's about understanding the evolving digital milieu, resonating with audiences, and delivering consistent value. And in this journey, the brands that prioritize authenticity and value over overt self-promotion are the ones that truly thrive and leave a lasting imprint in the reader's mind. 
Want to harness the power of evergreen content for your SEO strategy? Contact Chroma Marketing Essentials at 724-523-3001, or visit our Contact Page today and let's craft a winning formula for your digital success.