It's Website Budgeting Season
Plan Ahead for Website Updates in 2022
With 2022 fast approaching, it's time to start making budget decisions for your business. Have you thought about your website and marketing needs for next year?
Many companies – especially those with newer websites – might not account for unexpected costs associated with maintenance and other website work.
Are you prepared to protect your online investment?
Whether you're updating an existing website, maintaining your online presence with regular updates, adding a mobile-friendly component, or starting over with a completely new design, our Chroma Marketing Essentials team has you covered.
Call us today at 724-523-3001 to learn how our services can work for you and your budget.
Is Your Website Outdated?
As a small business owner, you've got a lot on your plate. As long as your website sees traffic or its e-commerce component functions properly, it may not be at the top of your priority list. 
Just because your website has only been around for a few years, doesn't mean it's not potentially outdated. At Chroma, we know taking a proactive approach to updating your online presence is necessary to keep you relevant and competitive.
If your site is 3 to 5 years old, it probably needs some attention to be competitive and work properly on modern computers, laptops, tablets, and phones.
How do you know if your website is outdated? It may be time for some changes if:
Your site looks worse than your competitors' online presence.
Your site isn't mobile-friendly or optimized for use on handheld electronic devices.
Your site looks small and centered on current displays.
Your site doesn't have secure (SSL) hosting.
You can't make basic changes on your own.
Your site is not ADA Compliant.
If your website hasn't been updated in more than 5 years, chances are you've fallen far behind the curve. As connection speeds increase, user experiences evolve, and expectations rise.
Your biggest liability is looking like the worst choice among competitors when website visitors are shopping around for services. After all, competing sites are only a click away! Our Chroma team has all the right tools to keep your brand at the top of the pack.
Consider Keeping Your Website Updated

When it comes to putting your company's best foot forward, the "If it's not broken, don't fix it," philosophy shouldn't apply to your online presence. Don't wait for problems to arise before prioritizing your updates and maintenance.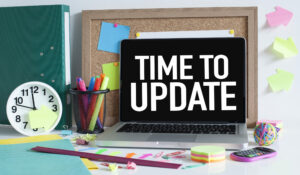 With over 1.5 billion websites online, Google has decided to pay attention to the ones that are changing and growing over time. You should consider regular article postings, service updates, picture changes, and design tweaks to keep the search engines interested.
Keeping your website technology up to date is also critical. Website versions, plugins, and widgets go out of date all the time, leaving your website vulnerable to hacking and the possibility of your site not working properly in today's fast-paced environment. 
For example – Did you know Google wants all websites to add a security certificate (SSL) to their hosting systems, and may show your website less in search results if you don't have one? 
On the World Wide Web, 10 years in websites is like 50 years in the automotive industry. If your website is stuck in the past, it's like driving a 1940s car in a race against others with modern engines and technology.
Sure – some old vehicles are considered classics, but that doesn't make them great for everyday life. You wouldn't go clunking along without safety features to go grocery shopping or pick up your kids from soccer practice, so why allow your company's website to look like an antique?
Call Chroma Studios today at 724-523-3001 to learn how our experts can help you keep your business on the right track. Our state-of-the-art services are fast, easy, and perfect for every budget – getting you back to business sooner.
What About Online Marketing?
Today, a website alone is often not enough to compete online. In 2014, the world passed the 1 billion website mark, making an already crowded field even harder to get noticed in.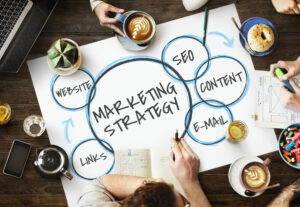 Developing and implementing a strong marketing strategy is essential to ensuring your business stands out among industry competitors.
At Chroma, our online and print marketing services are designed to get you noticed and put your brand in front of the audience you want. Some effective marketing strategies to consider include:
 Social media management– Facebook, Twitter, LinkedIn, Pinterest, Instagram, etc. 
Blogging and article writing – helps you stand out as an expert in your field. 
Search Optimization – tailors your website to a modern search environment.
Search Advertising – placing ads on Google, YouTube, and across social media.
E-blasts and newsletters – puts your business right in front of your target market.
Print content – engages your audience through brochures, flyers, sales decks, and more.
It Sounds Overwhelming!
If you think keeping up with today's online environment sounds overwhelming – it is! That's why your business can benefit from the assistance of an experienced, award-winning design agency like Chroma Marketing Solutions.
We recently celebrated 20 years in business, and we currently serve hundreds of clients in both the southwestern Pennsylvania region and nationwide. Our experienced web designers and marketing staff will look at your specific resources and develop a plan that works for your needs and your budget.
You can't win on all fronts these days, but you can focus where it will do you the most good. Let us lead the way!
For 2022, Our Vision is Clear
What Chroma Studios Offers
When you're budgeting for your 2022 website needs, let Chroma Studios help you find the services that are right for you. Our offerings include:
Award-winning web design.
Modern, mobile-friendly websites.
Integrated Google Analytics and Google Search Console with every website.
WordPress CMS development.
WordPress training.
Social media management.
Online advertising services.
And much more!
All our website, marketing, and support services are provided in-house. No overseas, third-party contractors are ever used at Chroma. We're local to the Pittsburgh area, with more than two decades of local service, and we're here for you.
What Does All This Cost?
When it comes to your online presence, putting forth your best image is an investment, not a cost. Not being your best reduces your visibility, minimizes opportunity, and loses clients.
Our many service packages include:
Web Design
Social Media Management
Online Advertising Services
Content Development
Website Updates
Monthly Updates Subscriptions
And so much more!
Call us and we'll discuss your project and give you a quote. After all, isn't a better online footprint something you should invest in?
How Do We Get Started?
Not sure how to choose the right services for your 2022 budget? Don't worry! The experts at Chroma Sudioss will:
Deliver fast turnaround on a proposal designed just for you.
Offer the most affordable, targeted solution for your business or organization.
Assign a dedicated project manager who will walk you through the website process.
Build and launch your site within 60 days (or much sooner with your timely reviews).
At Chroma, we build and maintain websites that serve as foundations for expanding your online presence. Our award-winning designs can give your business an advantage over the top competitors in your industry.
In 2022, let Chroma Studios provide you with the best website and marketing services for establishing, growing, or maintaining your business.
Call us today at 724-523-3001 to learn how our services can work for you and your budget. For more information on our complete service offerings, visit our website.